La Palma: Colombia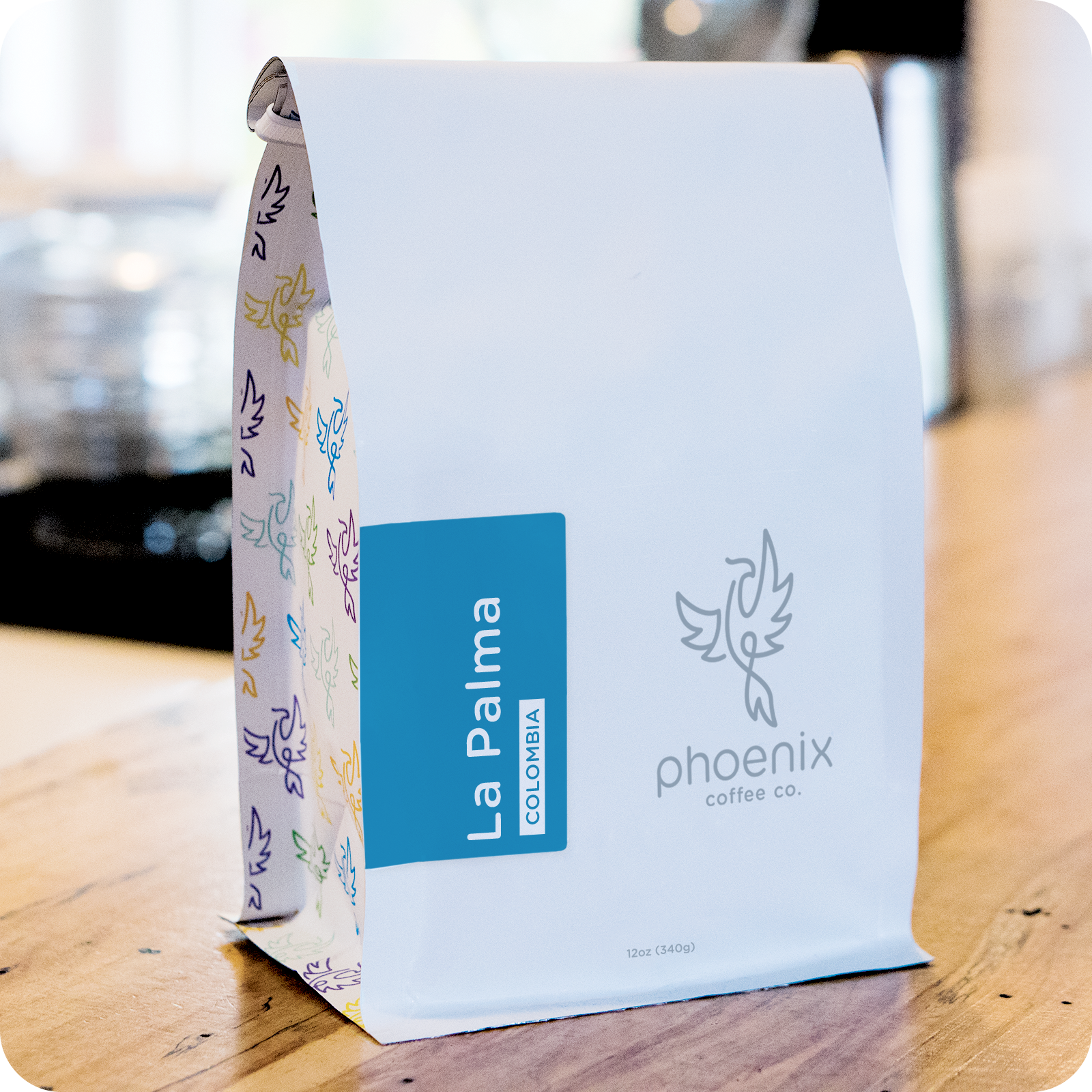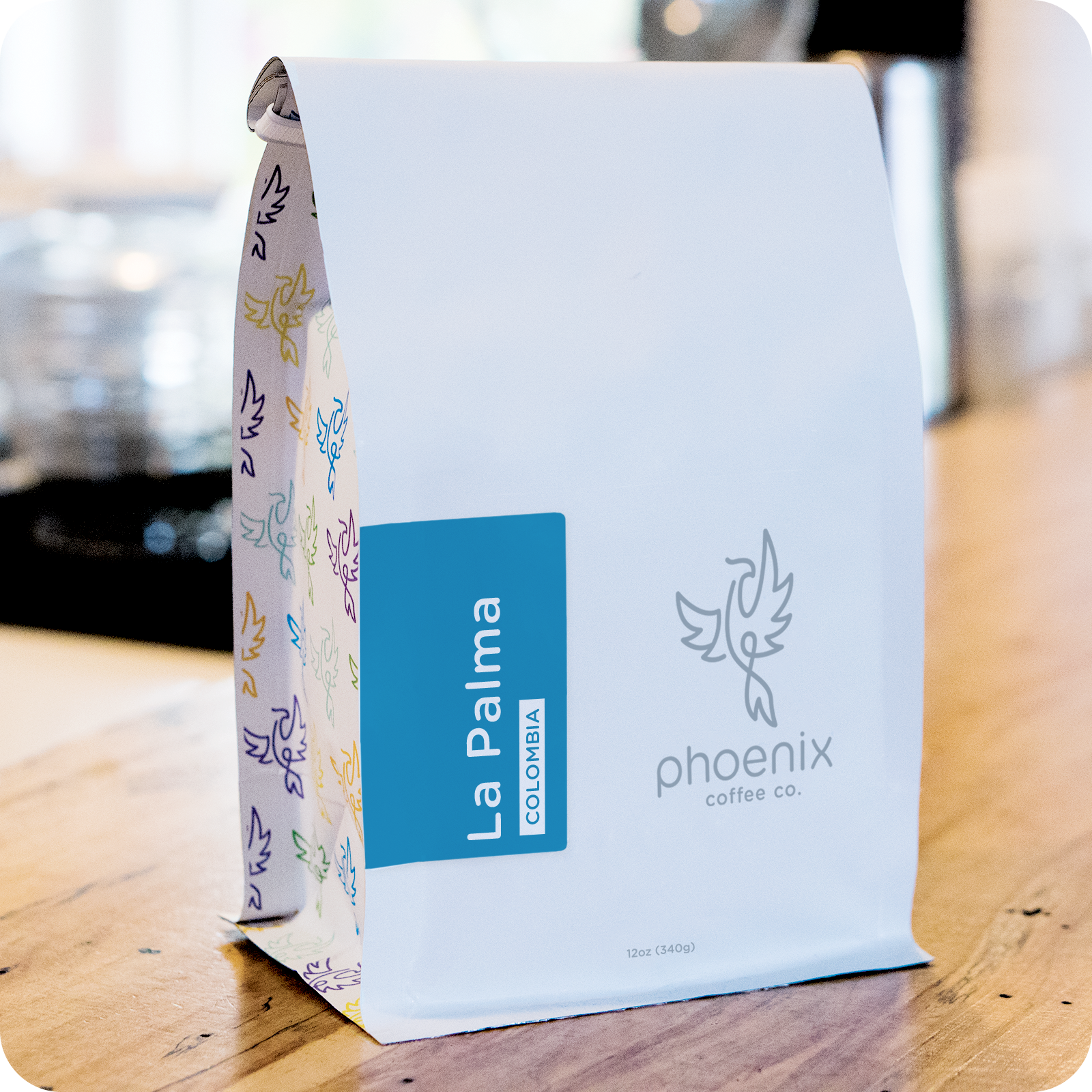 La Palma: Colombia
This is our first year purchasing from Luis Edgar Camacho. This Phoenix-exclusive is a continuation of our previous collaboration with Luis' neighbor, Cup of Excellence award winner Lino Rodriguez and explores how designed fermentation can add complexity to disease-resistant hybrid cultivars.

Castillo grown between 1450-1550 MASL; selectively hand-picked and sorted for ripeness; floated; pulped and floated; fermented for 36 hours underwater using selected yeast; washed; and dried in shade in an open parabolic drier for 20 days.

What we taste: Wine grape, cherry, fig
12 ounce retail valve bag
For the purposes of this story, we have a hero, named Coffea Arabica—You might know it as coffee. And if coffee had a nemesis, it might be named Hemileia vastatrix—or as it's known to coffee farmers across Latin America, "la roya."

There's a lack of genetic diversity amongst coffee trees in the world, outside of Ethiopia—most of the trees can be traced to just a handful of ancestral trees. As a result, this has made coffee trees highly susceptible to disease and climate pressures since if a disease is adapted to infect a specific genetic target, it'll level a whole field since all of the neighboring trees share the same DNA. It's easy work for it to decimate an entire farm, and then an entire economy.

This happened a couple times in the history of coffee. Roya, or Coffee Leaf Rust, is caused by a fungus (our nemesis Hemileia vastatrix) was first spotted in Kenya in 1861 and within just two decades nearly wiped out all Arabica coffee production in Asia and Indonesia by the 1890s. By 1970 it spread to Brazil, leading to a global epidemic by 2010. By 2012, many farms in Latin America were in a state of emergency, with roya affecting as many as 90% of farms across Central America.

The fungus, which spreads extremely quickly and interrupts photosynthesis and photorespiration, killing coffee trees, caused the failure of many coffee farms globally. Some producers switched to tea or other crops. Some just simply walked away.

To address the threat, one strategy used by governments in producing nations, such as Brazil, Colombia and Costa Rica, was to focus on the development of disease-resistant hybrids. Now, this isn't the strategy that evidence suggests is actually the most effective: correcting the soil microbiome is a much more effective way to not only strengthen trees against disease but also improve yields and qualities (and act as a carbon sink, helping climate change, oh and also fighting erosion...) — but it's difficult to deploy at scale and the needs are vastly different between different farms at different locations with different plantings. So governments tend to focus on technical solutions...like breeding programs.

The result of one of Colombia CENICAFE's program, Castillo, was released by the program in 2005 to farmers in Colombia. The cultivar, a cross of Colombia x Caturra x Timor quickly became the most widely-planted type of coffee tree in Colombia because of CENICAFE and promised backing by the Colombian coffee federation (FNC).

Think of it like apples — if you've got Red Delicious (developed c. 1870) or Fuji (1930s) or Granny Smith (1968), they're all apples, but the fruit tastes wildly different and comes from different trees. It's like that in coffee, too. Castillo might be like the Red Delicious — it's marketed a certain way, it calls itself a thing, but in practice... it ain't quite that.

The tree didn't live up to its promise. It was an unstable variety—some trees expressed more favorable Caturra-like or Colombia-like characteristics, while others had more of the dirty, vegetal flavors of Timor. It was luck of the draw. So even though it was high-yielding and disease-resistant, it meant lower premiums for quality-focused specialty producers.

But we had an idea — what if we could use the processing principles we'd learned and work with an experimentally-minded producer whose agronomic practices were excellent in order to try to build a better Castillo.

So in September 2017, we flew down to Palestina, Colombia and worked with Lino Rodriguez at his family's farm, Finca Betanía, to process an experimental lot of Castillo coffee specifically for Phoenix. We featured this coffee in March/April of 2018, named after Lino's sister, Graciela (Also: congratulations are in order for Lino, who this year won 2nd place in Colombia's Cup of Excellence competition!). Typically, Graciela's Castillo cupped around 84 points. With the processing protocol we implemented, it cupped 86.5.

So this year, we thought we'd try again, with a different producer and with a larger lot.

Working with our exporter in Colombia, we met Lino's neighbor, Luis Edgar Camacho, and went to visit his farm, la Palma. La Palma sits at high altitude in Palestina and had the same sort of agronomic conditions as Lino's farm. Edgar's wife is a master gardener—the farmhouse is surrounded by a labyrinth of flowers and hen houses and sunbathing dogs.

Lino, a leader in the town, had sold seedlings to Luis of a few different trees to try on his farm in the hopes that one of them would be a suitable replacement for the Castillo, which at la Palma rarely scored higher than 83 points. It was our hope and intention that during the transition, our protocol could provide a way for Luis to make a little more money than usual from his Castillo trees while he waited on the new Tabi and Gesha trees to produce.

We agreed to pay Luis the same premium he would receive for an 86 point coffee, regardless of the outcome, and trained him on our processing method and set up the conditions on his farm. This year, that meant we paid 922,000 pesos per carga — versus the FNC's daily price of 708,000 COP and our exporter's typical price for that coffee, around 801,000 COP.

And just for fun, we replicated the same protocol on our other exporter's farm in Suaza, el Mirador—that coffee will be coming up soon.

Suffice to say — we're excited by the results.